PITHIA-NRF services mitigating the socio-economic impacts of the upper atmosphere effects.
Many space weather phenomena perturb the upper atmosphere and influence the performance and reliability of several essential and costly space-borne and groundbased technologies on Earth, such as:
EARTH OBSERVATION (EO) SYSTEMS (E.G., LOW-FREQUENCY SAR), WHICH ARE AFFECTED BY:
Faraday rotation.

Ionospheric Scintillation.
UHF COMMUNICATIONS USED IN SATCOM THAT ARE ATTENUATED BY:
Ionospheric plasma bubbles.
POSITIONING, NAVIGATION, AND TIMING (PNT) WITH GNSS SATELLITES AND GROUND-BASED AUGMENTATION SYSTEMS (GBAS) THAT IS MADE INACCURATE BY:
Large total electron content (TEC) gradients.

Ionospheric plasma bubbles (leading to scintillations and ionospheric delay).

Travelling Ionospheric Disturbances.
ASTRONOMICAL OBSERVATION (AO) SYSTEMS (E.G., LOFAR), WHICH ARE RENDERED UNAVAILABLE BY:
Geomagnetic storms & auroral jets intensifications

Ionospheric plasma bubbles.
TERRESTRIAL RADIO SYSTEMS USING HF AND VHF COMMUNICATIONS, WHICH ARE DISRUPTED BY:
Polar Cap Absorption.

Sporadic E-layer.

Travelling Ionospheric Disturbances.

Ionization depletions.
SATELLITES IN LOW EARTH ORBIT (LEO), WHOSE ORBITS CAN BE AFFECTED BY THERMOSPHERIC DRAG.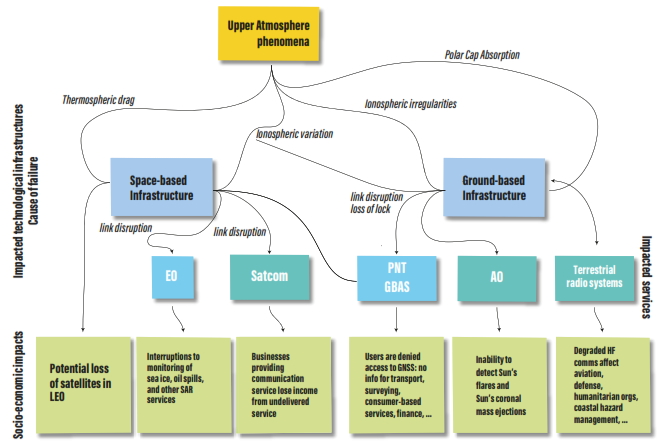 PITHIA-NRF services will significantly contribute to predicting these effects and, thus, support the design of technologies mitigating their impacts.
Learn more about "The Socioeconomic Impacts of the Upper Atmosphere Effects on LEO Satellites, Communication and Navigation Systems" or download the relevant leaflet.
---
Innovation Day 1
PITHIA-NRF First Innovation Day is organised on Tuesday 21-06-2022, aiming to make users from SMEs and the aerospace sectors aware of the PITHIA-NRF concept, the expected results, and the possibility to use the nodes for developing projects on validation and calibration of new instrumentation.
You can find more about the First Innovation Day here.
Innovation Day 2
It is planned to take place in month 24 of the project.
Innovation Day 3
It is planned to take place in month 40 of the project.
---
Check the PITHIA-NRF's website section "NEWS" to get all the updates about Innovation Days.